Product Summary
The AD9761ARSZRL is a complete dual channel, high speed, 10-bit CMOS DAC. The AD9761ARSZRL has been developed specifically for use in wide bandwidth communication applications (e.g., spread spectrum) where digital I and Q information is being processed during transmit operations. It integrates two 10-bit, 40 MSPS DACs, dual 2× interpolation filters, a voltage reference, and digital input interface circuitry. The AD9761ARSZRL supports a 20 MSPS per channel input data rate that is then interpolated by 2× up to 40 MSPS before simultaneously updating each DAC. The AD9761ARSZRL is manufactured on an advanced low cost CMOS process. It operates from a single supply of 2.7 V to 5.5 V and consumes 200 mW of power. To make the AD9761ARSZRL complete it also offers an internal 1.20 V temperature-compensated bandgap reference. The AD9761ARSZRL offers the complete integrated function in a compact 28-lead SSOP package.The AD9761ARSZRL Dual Transmit DAC has a pair of Dual Receive ADC companion products, the AD9281 (8 bits) and AD9201 (10 bits).
Parametrics
AD9761ARSZRL absolute maximum ratings: (1)AVDD ACOM: –0.3 +6.5 V; (2)DVDD DCOM: –0.3 +6.5 V; (3)ACOM DCOM: –0.3 +0.3 V; (4)AVDD DVDD: –6.5 +6.5 V; (5)CLOCK, WRITE DCOM: –0.3 DVDD+0.3 V; (6)SELECT, SLEEP DCOM: –0.3 DVDD+0.3 V; (7)Digital Inputs DCOM: –0.3 DVDD+0.3 V; (8)IOUTA, IOUTB ACOM: –1.0 AVDD+0.3 V; (9)QOUTA, QOUTB ACOM: –1.0 AVDD+0.3 V; (10)COMP1, COMP2 ACOM: –0.3 AVDD+0.3 V; (11)COMP3 ACOM: –0.3 AVDD+0.3 V; (12)REFIO, FSADJ ACOM: –0.3 AVDD+0.3 V; (13)REFLO ACOM: –0.3 +0.3 V; (14)Junction Temperature: +150°C; (15)Storage Temperature: –65 +150°C; (16)Lead Temperature (10 sec): +300°C.
Features
AD9761ARSZRL features: (1)Complete 10-Bit, 40 MSPS Dual Transmit DAC; (2)Excellent Gain and Offset Matching; (3)Differential Nonlinearity Error: 0.5 LSB; (4)Effective Number of Bits: 9.5; (5)Signal-to-Noise and Distortion Ratio: 59 dB; (6)Spurious-Free Dynamic Range: 71 dB; (7)2× Interpolation Filters; (8)20 MSPS/Channel Data Rate; (9)Single Supply: +2.7 V to +5.5 V; (10)Low Power Dissipation: 200 mW (+3 V Supply @40 MSPS); (11)On-Chip Reference; (12)28-Lead SSOP.
Diagrams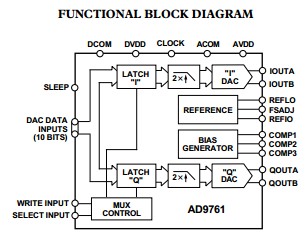 Image
Part No
Mfg
Description
Pricing
(USD)
Quantity

AD9761ARSZRL



IC DAC 10BIT DUAL 40MSPS 28-SSOP

Data Sheet


Image
Part No
Mfg
Description
Pricing
(USD)
Quantity

AD974BNZ



IC DAS 16BIT 4CH 200KSPS 28DIP

Data Sheet



| | |
| --- | --- |
| 0-1: | $33.77 |
| 1-10: | $31.79 |
| 10-100: | $28.41 |
| 100-250: | $26.82 |
| 250-500: | $26.49 |


AD974BR



IC DAS 16BIT 4CH 200KSPS 28-SOIC

Data Sheet



AD974BRS



IC DAS 16BIT 4CH 200KSPS 28-SSOP

Data Sheet



AD974BRS-RL7



IC DAS 16BIT 4CH 200KSPS 28SSOP

Data Sheet



AD974BRSZ



IC DAS 16BIT 4CH 200KSPS 28-SSOP

Data Sheet



| | |
| --- | --- |
| 0-1: | $31.23 |
| 1-10: | $29.39 |
| 10-100: | $26.27 |
| 100-250: | $24.80 |
| 250-500: | $24.49 |


AD974BRZ



IC DAS 16BIT 4CH 200KSPS 28SOIC

Data Sheet



| | |
| --- | --- |
| 0-1: | $31.23 |
| 1-10: | $29.39 |
| 10-100: | $26.27 |
| 100-250: | $24.80 |
| 250-500: | $24.49 |