Product Summary
The UCC27424DR is a high-speed dual MOSFET driver can deliver large peak currents into capacitive loads. Three standard logic options are offered-dual-inverting, dual-noninverting and one-inverting and one-noninverting driver. The thermally enhanced 8-pin PowerPADTM MSOP package (DGN) drastically lowers the thermal resistance to improve long-term reliability. The UCC27424DR is also offered in the standard SOIC-8 (D) or PDIP-8 (P) packages. Using a design that inherently minimizes shoot-through current, the UCC27424DR delivers 4-A of current where it is needed most at the Miller plateau region during the MOSFET switching transition. A unique BiPolar and MOSFET hybrid output stage in parallel also allows efficient current sourcing and sinking at low supply voltages. The applications of the UCC27424DR include Switch Mode Power Supplies, DC/DC Converters, Motor Controllers, Line Drivers, Class D Switching Amplifiers.
Parametrics
UCC27424DR absolute maximum ratings: (1)Supply voltage, VDD: 0.3 V to 16 V; (2)Output current (OUTA, OUTB) DC, IOUT_DC: 0.3 A; Pulsed, (0.5 μs), IOUT_PULSED: 4.5 A; (3)Input voltage (INA, INB), VIN: 5 V to 6 V or VDD + 0.3 (whichever is larger); (4)Enable voltage (ENBA, ENBB): 0.3 V to 6 V or VDD+0.3 (whichever is larger); (5)Power dissipation at TA = 25℃ (DGN package): 3 W; (D package): 650 mW; (P package): 350 mW; (6)Junction operating temperature, TJ: -55℃ to 150℃; (7)Storage temperature, Tstg: -65℃ to 150℃; (8)Lead temperature (soldering, 10 sec.): 300℃.
Features
UCC27424DR features: (1)Industry-Standard Pin-Out; (2)Enable Functions for Each Driver; (3)High Current Drive Capability of ±4 A; (4)Unique BiPolar and CMOS True Drive Output Stage Provides High Current at MOSFET Miller Thresholds; (5)TTL/CMOS Compatible Inputs Independent of Supply Voltage; (6)20-ns Typical Rise and 15-ns Typical Fall Times with 1.8-nF Load; (7)Typical Propagation Delay Times of 25 ns with Input Falling and 35 ns with Input Rising; (8)4-V to 15-V Supply Voltage; (9)Dual Outputs Can Be Paralleled for Higher Drive Current; (10)Available in Thermally Enhanced MSOP PowerPAD Package with 4.7℃/W θjc; (11)Rated From -40℃ to 105℃.
Diagrams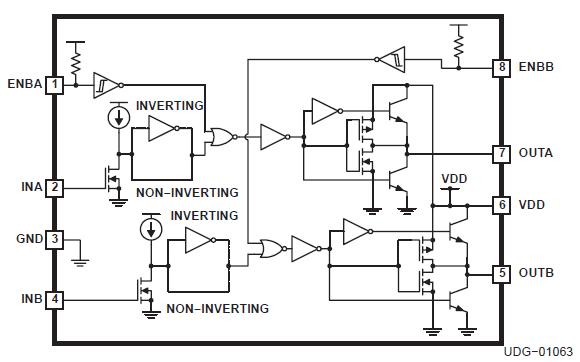 Image
Part No
Mfg
Description
Pricing
(USD)
Quantity

UCC27424DR

Texas Instruments

Power Driver ICs DUAL 4A MOSFET DRIVER

Data Sheet



| | |
| --- | --- |
| 0-1790: | $0.59 |
| 1790-2000: | $0.56 |
| 2000-2500: | $0.56 |
| 2500-5000: | $0.54 |


UCC27424DRG4

Texas Instruments

Power Driver ICs DUAL 4A MOSFET DRIVER

Data Sheet



| | |
| --- | --- |
| 0-1790: | $0.59 |
| 1790-2000: | $0.56 |
| 2000-2500: | $0.56 |
| 2500-5000: | $0.54 |