Product Summary
The VIPER12AS is a dedicated current mode PWM controller with a high voltage Power MOSFET on the same silicon chip. Typical applications cover off line power supplies for battery charger adapters, standby power supplies for TV or monitors, auxiliary supplies for motor control, etc. The VIPER12AS offers the following benefits:Large input voltage range on the VDD pin, accommodates changes in auxiliary supply voltage, Automatic burst mode in low load condition and Overvoltage protection in hiccup mode.
Parametrics
VIPER12AS absolute maximum ratings: (1)VDS(sw) Switching Drain Source Voltage (Tj=25 to 125℃): -0.3 to 730 V; (2)VDS(st) Start Up Drain Source Voltage (Tj=25 to 125℃): -0.3 to 400 V; (3)ID Continuous Drain Current: Internally limited A; (4)VDD Supply Voltage: 0 to 50 V; (5)IFB Feedback Current: 3 mA; (6)VESD Electrostatic Discharge: Machine Model (R=0Ω; C=200pF): 200V, Charged Device Model: 1.5kV; (7)Tj Junction Operating Temperature: Internally limited ℃; (8)Tc Case Operating Temperature: -40 to 150 ℃; (9)Tstg Storage Temperature: -55 to 150 ℃.
Features
VIPER12AS features: (1)fixed 60 KHZ switching frequency; (2)9V to 38V wide range vdd voltage; (3)current mode control; (4)auxiliary undervoltage lockout with hysteresis; (5)high voltage start up current source; (6)overtemperature, overcurrent and overvoltage protection with autorestart.
Diagrams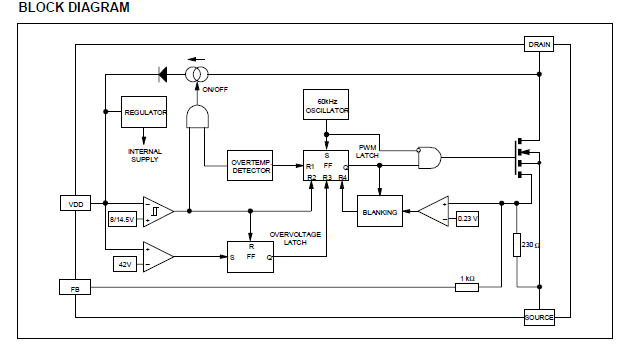 Image
Part No
Mfg
Description
Pricing
(USD)
Quantity

VIPER12AS

STMicroelectronics

Current Mode PWM Controllers 700V 0.36A SMPS DISC-BY-STM-12/04

Data Sheet

Negotiable

VIPER12AS-E

STMicroelectronics

Current Mode PWM Controllers 700V 0.36A SMPS

Data Sheet



| | |
| --- | --- |
| 0-1: | $0.51 |
| 1-10: | $0.48 |
| 10-100: | $0.43 |
| 100-250: | $0.41 |


VIPER12ASTR-E

STMicroelectronics

Current Mode PWM Controllers Low Power OFF-Line SMPS Primary Switch

Data Sheet



| | |
| --- | --- |
| 0-1: | $0.51 |
| 1-25: | $0.48 |
| 25-100: | $0.46 |
| 100-250: | $0.41 |