Product Summary
The TMS320F2802PZA-60 is a 64KB digital signal processor.
Parametrics
TMS320F2802PZA-60 absolute maximum ratings: (1)Program Memory Size 64KB (32K x 16); (2)RAM Size: 6K x 16; (3)Number of I /O: 35; (4)Package / Case: 100-LQFP; (5)Speed: 60MHz; (6)Oscillator Type: Internal; (7)Packaging: Tray; (8)Program Memory Type: FLASH; (9)Core Processor: C28x; (10)Data Converters A/D: 16x12b; (11)Core Size: 32-Bit ; (12)Operating Temperature: -40 ~ 85℃; (13)Connectivity: CAN, I²C, SCI, SPI, UART/USART; (14)Peripherals: POR, PWM, WDT; (15)Voltage - Supply (Vcc/Vdd): 1.71 V ~ 1.89 V; (16)Lead Free Status: Lead Free.
Features
TMS320F2802PZA-60 features: (1)High-Performance Static CMOS Technology; (2)JTAG Boundary Scan Support(1); (3)High-Performance 32-Bit CPU; (4)On-Chip Memory; (5)Boot ROM (4K x 16); (6)With Software Boot Modes (via SCI, SPI, CAN, I2C, and Parallel I/O); (7)Standard Math Tables.
Diagrams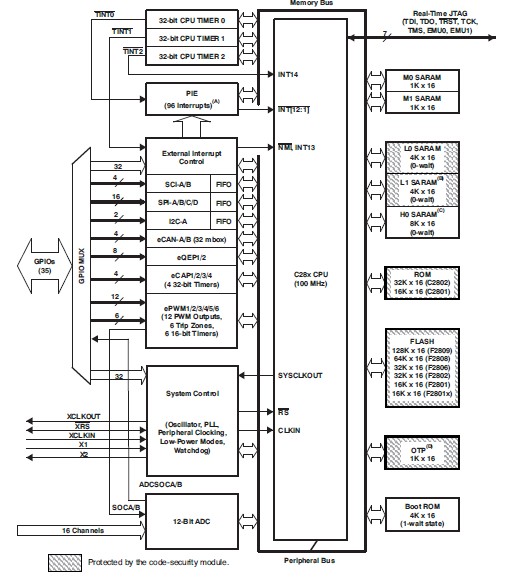 Image
Part No
Mfg
Description
Pricing
(USD)
Quantity

TMS320F2802PZA-60

Texas Instruments

Digital Signal Processors & Controllers (DSP, DSC) 32B Dig Signal Controller

Data Sheet



| | |
| --- | --- |
| 0-1: | $6.33 |
| 1-25: | $5.33 |
| 25-100: | $4.90 |
| 100-250: | $4.46 |

Image
Part No
Mfg
Description
Pricing
(USD)
Quantity

TMS3112

Other



Data Sheet

Negotiable

TMS3121

Other



Data Sheet

Negotiable

TMS320

Other



Data Sheet

Negotiable

TMS32010

Other



Data Sheet

Negotiable

TMS320AV7110

Other



Data Sheet

Negotiable

TMS320BC51PQ100

Texas Instruments

Digital Signal Processors & Controllers (DSP, DSC) TMS320C51PQ - 132QFP - 100MHZ/BOOT CODE

Data Sheet

Negotiable