Product Summary
The CY7B991-5JC Programmable Skew Clock Buffer (PSCB) offers user selectable control over system clock functions. These multiple output clock drivers provide the system integrator with functions necessary to optimize the timing of high performance computer systems. Each of the eight individual drivers, arranged in four pairs of user controllable outputs, can drive terminated transmission lines with impedances as low as 50Ω. The CY7B991-5JC can deliver minimal and specified output skews and full swing logic levels (CY7B991 TTL or CY7B992 CMOS).
Parametrics
CY7B991-5JC absolute maximum ratings: (1)Storage Temperature: –65℃ to +150℃; (2)Ambient Temperature with Power Applied: –55℃ to +125℃; (3)Supply Voltage to Ground Potential: –0.5V to +7.0V; (4)DC Input Voltage: –0.5V to +7.0V; (5)Output Current into Outputs (LOW): 64 mA; (6)Static Discharge Voltage: >2001V (MIL-STD-883, Method 3015); (7)Latch Up Current: >200 mA.
Features
CY7B991-5JC features: (1)All output pair skew <100 ps typical (250 maximum); (2)3.75 to 80 MHz output operation; (3)Zero input to output delay; (4)50% duty cycle outputs; (5)Outputs drive 50Ω terminated lines; (6)Low operating current; (7)32-pin PLCC/LCC package; (8)Jitter < 200 ps peak-to-peak (< 25 ps RMS).
Diagrams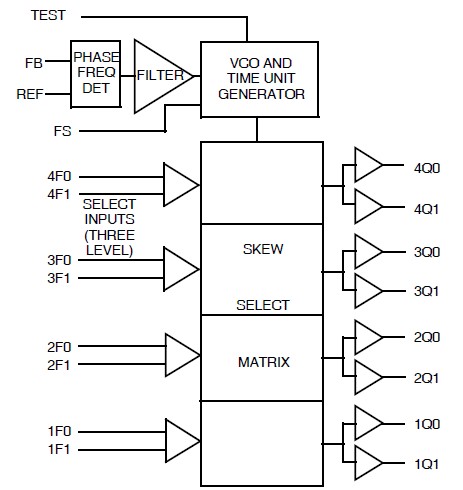 Image
Part No
Mfg
Description
Pricing
(USD)
Quantity

CY7B991-5JC

Cypress Semiconductor

Phase Locked Loops (PLL) 5V 80MHz 8 TLL COM Programable

Data Sheet

Negotiable
Image
Part No
Mfg
Description
Pricing
(USD)
Quantity

CY7B

Crystek Corporation

Crystals 7.3728MHz Series 0C +70C

Data Sheet



| | |
| --- | --- |
| 0-1000: | $0.26 |
| 1000-2000: | $0.25 |
| 2000-4000: | $0.23 |
| 4000-8000: | $0.22 |


CY7B131

Other



Data Sheet

Negotiable

CY7B134

Other



Data Sheet

Negotiable

CY7B138

Other



Data Sheet

Negotiable

CY7B8392

Other



Data Sheet

Negotiable

CY7B9234

Other



Data Sheet

Negotiable