Product Summary
The MIC2145YMM is a small size boost switching regulator that can provide over 2.5W of output power. The input voltagerange is between 2.4V to 16V, making the device suitable forone-cell Li-Ion and 3- to 4-cell alkaline/NiCad/NiMH applica-tions. The output voltage of the MIC2145YMM can be adjusted upto 16V. It is well suited for portable, space-sensitiveapplications. Its typical 450kHz operation allows small sur-face mount external components to be used. The MIC2145YMM has a low quiescent current of 200μA, and a typical shutdowncurrent of 0.5μA. It is capable of high efficienciesin a small board area. The MIC2145YMM features a low-on resistance internal switchthat allows it to provide over 2.5W of output power. The peakswitch current can be programmed through an externalresistor. This allows the user to set the peak switch current atthe level where maximum efficiency occurs. The MIC2145YMM also allows theuser to further optimize for efficiency and inductor size bysetting the peak current below the level of inductor saturation. It is available in an MSOP-8 package with an ambient operating temperature range from –40℃ to +85℃.
Parametrics
MIC2145YMM absolute maximum ratings: (1)Supply Voltage (VDD): 18V; (2)Switch Voltage (VSW): 18V; (3)Feedback Voltage (VFB): 18V; (4)Switch Current (ISW): 2A; (5)Enable Voltage(VEN): 18V; (6)RSET Voltage (VRSET): 6V; (7)ESD Rating: 2kV; (8)Ambient Storage Temperature(TS): –65℃ to +150℃.
Features
MIC2145YMM features: (1)2.4V to 16V input voltage; (2)Output adjustable to 16V; (3)Programmable peak current limit; (4)Soft start; (5)Up to 450kHz switching frequency; (6)0.5μA shutdown current; (7)200μA quiescent current; (8)Capable of 5V/ 500mA output with 3.3V input; (9)Achieves over 85% efficiency; (10)Implements low power BOOST, SEPIC, and FLYBACK topologies; (11)MSOP-8.
Diagrams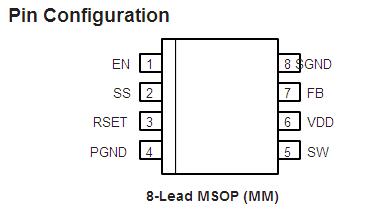 Image
Part No
Mfg
Description
Pricing
(USD)
Quantity

MIC2145YMM



IC REG BST FLYBK SEPIC ADJ 8MSOP

Data Sheet



MIC2145YMM TR



IC REG BST FLYBK SEPIC ADJ 8MSOP

Data Sheet



| | |
| --- | --- |
| 0-1: | $1.63 |
| 1-25: | $1.31 |
| 25-100: | $1.02 |
| 100-250: | $0.97 |
| 250-500: | $0.94 |