Product Summary
The NJU39610D2 is a dual 7-bit+sign, Digital-to-Analog Converter(DAC) especially developed to be used together with the NJM3771, Precision Stepper Motor driver in micro-stepping applications. The NJU39610D2 has a set of input registers connected to an 8-bit data port for easy interfacing directly to a microprocessor. The NJU39610D2 is well suited for high-speed micro-stepping application.
Parametrics
NJU39610D2 absolute maximum ratings: (1)Supply Voltage:6V; (2)Logic inputs Voltage:-0.3V to VDD+0.3V; (3)Reference input Voltage:-0.3V to VDD+0.3V; (4)Logic inputs Current:-0.4mA to +0.4mA; (5)Storage temperature:-55℃ to +150℃; (6)Operating ambient temperature:-20℃ to +85℃.
Features
NJU39610D2 features: (1)Analog control voltages from 3 V down to 0.0 V; (2)High-speed microprocessor interface; (3)Automatic fast/slow current decay control; (4)Full-scale error:±1 LSB; (5)Fast conversion speed:3 μs; (6)Matches NJM3771; (7)Packages:DIP22/PLCC28.
Diagrams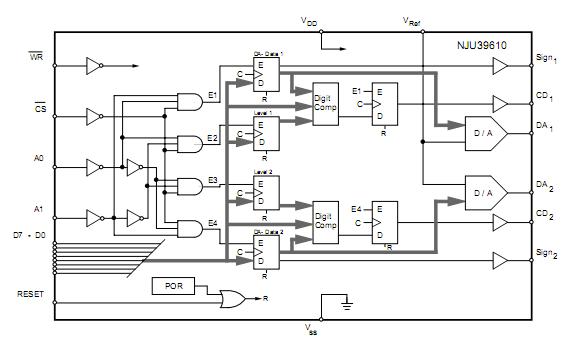 Image
Part No
Mfg
Description
Pricing
(USD)
Quantity

NJU39610D2

NJR

Motor / Motion / Ignition Controllers & Drivers Microstepping

Data Sheet



NJU39610D2#

NJR

IC STEPPER MOTOR DUAL/DAC 22-DIP

Data Sheet



| | |
| --- | --- |
| 1-25: | $4.29 |
| 25-100: | $3.43 |