Product Summary
The UC3845BVN is a high performance fixed frequency current mode controller. It is specifically designed for Off-Line and dc-to-dc converter applications offering the designer a cost effective solution with minimal external components. The UC3845BVN features an oscillator, a temperature compensated reference, high gain error amplifier, current sensing comparator, and a high current totem pole output ideally suited for driving a power MOSFET. Also included are protective features consisting of input and reference undervoltage lockouts each with hysteresis, cycle-by-cycle current limiting, a latch for single pulse metering, and a flip-flop which blanks the output off every other oscillator cycle, allowing output dead times to be programmed for 50% to 70%. The UC3845BVN is available in an 8-pin dual-in-line plastic package as well as the 14-pin plastic surface mount (SO-14). The SO-14 package has separate power and ground pins for the totem pole output stage. The UC3845BVN has UVLO thresholds of 16 V (on) and 10 V (off), ideally suited for off-line converters. It is tailored for lower voltage applications having UVLO thresholds of 8.5 V (on) and 7.6 V (off).
Parametrics
UC3845BVN absolute maximum ratings: (1)Total Power Supply and Zener Current (ICC + IZ): 30 mA; (2)Output Current, Source or Sink (Note 1) IO: 1.0 A; (3)Output Energy (Capacitive Load per Cycle) W: 5.0 μJ; (4)Current Sense and Voltage Feedback Inputs Vin: - 0.3 to + 5.5 V; (5)Error Amp Output Sink Current IO: 10 mA; (6)Power Dissipation and Thermal Characteristics N Suffix, Plastic Package, Case 626: Maximum Power Dissipation @ TA = 25℃ PD 1250 mW, Thermal Resistance Junction-to-Air RθJA 100℃/W; (7)Operating Junction Temperature TJ: + 150 ℃; (8)Operating Ambient Temperature TA: - 25 to + 85℃; (9)Storage Temperature Range Tstg: - 65 to + 150 ℃.
Features
UC3845BVN features: (1)Current Mode Operation to 500 kHz Output Switching Frequency; (2)Output Deadtime Adjustable from 50% to 70%; (3)Automatic Feed Forward Compensation; (4)Latching PWM for Cycle-By-Cycle Current Limiting; (5)Internally Trimmed Reference with Undervoltage Lockout; (6)High Current Totem Pole Output; (7)Input Undervoltage Lockout with Hysteresis; (8)Low Startup and Operating Current; (9)Direct Interface with ON Semiconductor SENSEFET Products.
Diagrams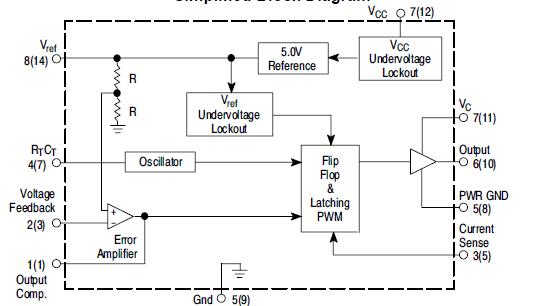 Image
Part No
Mfg
Description
Pricing
(USD)
Quantity

UC3845BVN

ON Semiconductor

Current Mode PWM Controllers 52kHz 1A Current PWM

Data Sheet

Negotiable

UC3845BVNG

ON Semiconductor

Current Mode PWM Controllers 52kHz 1A Current PWM w/48% Duty Cycle Max

Data Sheet



| | |
| --- | --- |
| 0-1: | $0.77 |
| 1-25: | $0.65 |
| 25-100: | $0.52 |
| 100-500: | $0.43 |