Product Summary
The UC3902DTR is a load share controller which is an 8-pin device that balances the current drawn from independent, paralleled power supplies. Load sharing is accomplished by adjusting each supplies' output current to a level proportional to the voltage on a share bus. The master power supply, which is automatically designated as the supply that regulates to the highest voltage, drives the share bus with a voltage proportional to its output current. The UC3902DTR trims the output voltage of the other paralleled supplies so that they each support their share of the load current. Typically, each supply is designed for the same current level although that is not necessary for use with the UC3902DTR. By appropriately scaling the current sense resistor, supplies with different output current capability can be paralleled with each supply providing the same percentage of their output current capability for a particular load.
Parametrics
UC3902DTR absolute maximum ratings: (1)Input voltage range, VI: VCC, ADJ -0.3 to 20V, SENSE -5 to 5V, ADJR, COMP -0.3 to 4V, SHARE-, SHARE+ -0.3 to 10V; (2)Output current, IO: SHARE+ -100 mA to 10 mA, ADJ -1 mA to 30mA; (3)Operating free-air temperature range, TA: -40 to 100℃; (4)Junction temperature range, TJ: -55 to 105℃; (5)Storage temperature, Tstg: -65 to 150℃; (6)Lead temperature 1,6 mm (1/16 inch) from case for 10 seconds: 300℃.
Features
UC3902DTR features: (1)2.7-V to 20-V Operation; (2)8-Pin Package; (3)Requires Minimum Number of External Components; (4)Compatible with Existing Power Supply Designs Incorporating Remote Output Voltage Sensin; (5)Differential Share Bus; (6)Precision Current Sense Amplifier (40 Gain); (7)UVLO (Undervoltage Lockout) Circuitry; (8)User Programmable Share Loop Compensation; (9)Application: Paralelled Power Supplies.
Diagrams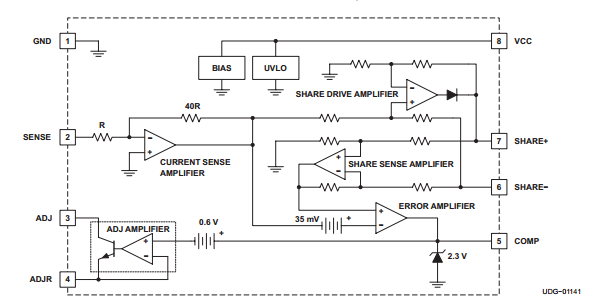 Image
Part No
Mfg
Description
Pricing
(USD)
Quantity

UC3902DTR

Texas Instruments

Other Power Management LOAD SHARE CONTROLLER

Data Sheet



| | |
| --- | --- |
| 0-1850: | $1.50 |
| 1850-2000: | $1.45 |
| 2000-2500: | $1.45 |
| 2500-5000: | $1.39 |


UC3902DTRG4

Texas Instruments

Other Power Management LOAD SHARE CONTROLLER

Data Sheet



| | |
| --- | --- |
| 0-1850: | $1.50 |
| 1850-2000: | $1.45 |
| 2000-2500: | $1.45 |
| 2500-5000: | $1.39 |