Product Summary
The UC3906N is a battery charger controller which holds cycle for sealed lead-acid batteries. It monitors and controls both the output voltage and current of the charger through three separate charge states; a high current bulk-charge state, a controlled over-charge, and a precision float-charge, or standby, state. Optimum charging conditions are maintained over an extended temperature range with an internal reference that tracks the no minal temperature characteristics of the lead-acid cell. A typical standby supply current requirement of only 1.6mA allows the UC3906N to predictably monitor ambient temperatures. Separate voltage loop and current limit amplifiers regulate the output voltage and current levels in the charger by controlling the onboard driver. The driver will supply at least 25mA of base drive to an external pass device. Voltage and current sense comparators are used to sense the battery condition and respond with logic inputs to the charge state logic. A charge enable comparator with a trickle bias output can be used to implement a low currewnt turn-on mode of the charger, preventing high current charging during abnormal conditions such as a shorted battery cell. Othe features include a supply under-voltage sense circuit with a logic output to indicate when input power is present. In addition the over-charge state of the UC3906N can be externally monitored and terminated using the over-charge indicate output and over-charge terminate input.
Parametrics
UC3906N absolute maximum ratings: (1)supply voltage: 40V; (2)open collector output voltages: 40V; (3)amplifier and comparator input voltages: -0.3V to 40V; (4)over-charge terminate input voltage: -0.3V to 40V; (5)current sense amplifier output current: 80mA; (6)other open collector output currents: 20mA; (7)trickle bias voltage differential with respect to VIN: -32V; (8)trickle bias output current: -40mA; (9)driver current: 80mA; (10)power dissipation at TA = 25℃: 1000mW; (11)power dissipation at TC = 25℃: 2000mW; (12)operating junction temperature: -55℃ to 150℃; (13)storage temperature: -65℃ to 150℃; (14)lead temperature (soldering, 10 seconds): 300℃.
Features
UC3906N features: (1)optimum control for maximum battery capacity and life; (2)internal state logic provides three charge states; (3)precision reference tracks battery requirements over temperature; (4)controls both voltage and current at charger output; (5)system interface functions; (6)typical standby supply current of only 1.6mA.
Diagrams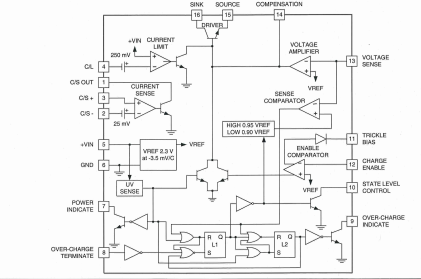 Image
Part No
Mfg
Description
Pricing
(USD)
Quantity

UC3906N

Texas Instruments

Battery Management Lead-Acid Linear Charge Mngt IC

Data Sheet



| | |
| --- | --- |
| 0-1: | $3.63 |
| 1-25: | $3.38 |
| 25-100: | $3.05 |
| 100-250: | $2.80 |


UC3906NG4

Texas Instruments

Battery Management Lead-Acid Linear Charge Mngt IC

Data Sheet



| | |
| --- | --- |
| 0-1: | $2.42 |
| 1-25: | $2.36 |
| 25-100: | $2.29 |
| 100-250: | $2.14 |