Product Summary
The UCC37323D is a high-speed dual MOSFET driver which can deliver large peak currents into capacitive loads.Three standard logic options are offered–dual-inverting, dual-noninverting and one-inverting and one-noninverting driver. The thermally enhanced 8-pin PowerPADTMMSOP package (DGN) drastically lowers the thermal resistance to improve long-term reliability. The UCC37323D is also offered in the standard SOIC-8 (D) or PDIP-8 (P) packages. Using a design that inherently minimizes shoot-through current, these drivers deliver 4-A of current where the UCC37323D is needed most at the Miller plateau region during the MOSFET switching transition. A unique BiPolar and MOSFET hybrid output stage in parallel also allows efficient current sourcing and sinking at low supply voltages.
Parametrics
UCC37323D absolute maximum ratings: (1)Supply voltage, VDD: –0.3 V to 16 V; (2)Output current (OUTA, OUTB): DC, IOUT_DC: 0.3 A, Pulsed, (0.5 μs), IOUT_PULSED: 4.5 A ; (3)Power dissipation at TA= 25℃: (DGN package) 3 W, (D package) 650 mW, (P package) 350 mW; (4)Junction operating temperature, TJ: –55℃ to 150℃; (5)Storage temperature, Tstg: –65℃ to 150℃; (6)Lead temperature (soldering, 10 sec.): 300℃.
Features
UCC37323D features: (1)Industry-Standard Pin-Out; (2)High Current Drive Capability of ±4 A at the Miller Plateau Region; (3)Efficient Constant Current Sourcing Using a Unique BiPolar & CMOS Output Stage; (4)TTL/CMOS Compatible Inputs Independent of Supply Voltage; (5)20-ns Typical Rise and 15-ns Typical Fall Times with 1.8-nF Load; (6)Typical Propagation Delay Times of 25 ns with Input Falling and 35 ns with Input Rising; (7)4-V to 15-V Supply Voltage; (8)Supply Current of 0.3 mA; (9)Dual Outputs Can Be Paralleled for Higher Drive Current; (10)Available in Thermally Enhanced MSOP PowerPADTMPackage with 4.7℃/W θjc; (11)Rated From –40℃ to 85℃.
Diagrams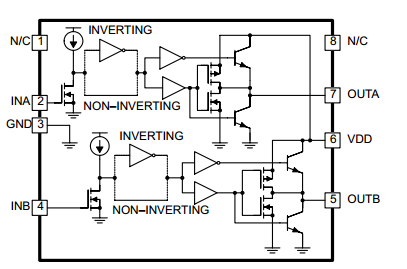 Image
Part No
Mfg
Description
Pricing
(USD)
Quantity

UCC37323D

Texas Instruments

Power Driver ICs Dual 4 A Peak High Speed Low-Side

Data Sheet



| | |
| --- | --- |
| 0-1: | $1.12 |
| 1-25: | $0.90 |
| 25-100: | $0.82 |
| 100-250: | $0.72 |


UCC37323DG4

Texas Instruments

Power Driver ICs Dual 4 A Peak High Speed Low-Side

Data Sheet



| | |
| --- | --- |
| 0-1: | $1.18 |
| 1-25: | $0.95 |
| 25-100: | $0.86 |
| 100-250: | $0.78 |


UCC37323DGN

Texas Instruments

Power Driver ICs Dual 4 A Peak High Speed Low-Side

Data Sheet



| | |
| --- | --- |
| 0-1: | $1.49 |
| 1-25: | $1.20 |
| 25-100: | $1.06 |
| 100-250: | $0.96 |


UCC37323DGNG4

Texas Instruments

Power Driver ICs Dual 4 A Peak High Speed Low-Side

Data Sheet



| | |
| --- | --- |
| 0-1: | $1.34 |
| 1-25: | $1.08 |
| 25-100: | $0.98 |
| 100-250: | $0.89 |


UCC37323DGNR

Texas Instruments

Power Driver ICs Dual 4 A Peak High Speed Low-Side

Data Sheet



| | |
| --- | --- |
| 0-1790: | $0.59 |
| 1790-2000: | $0.56 |
| 2000-2500: | $0.56 |
| 2500-5000: | $0.54 |


UCC37323DGNRG4

Texas Instruments

Power Driver ICs Dual 4 A Peak High Speed Low-Side

Data Sheet



| | |
| --- | --- |
| 0-1790: | $0.59 |
| 1790-2000: | $0.56 |
| 2000-2500: | $0.56 |
| 2500-5000: | $0.54 |


UCC37323DRG4

Texas Instruments

Power Driver ICs Dual 4 A Peak High Speed Low-Side

Data Sheet



| | |
| --- | --- |
| 0-1790: | $0.50 |
| 1790-2000: | $0.48 |
| 2000-2500: | $0.48 |
| 2500-5000: | $0.46 |


UCC37323DR

Texas Instruments

Power Driver ICs Dual 4 A Peak High Speed Low-Side

Data Sheet



| | |
| --- | --- |
| 0-1790: | $0.50 |
| 1790-2000: | $0.48 |
| 2000-2500: | $0.48 |
| 2500-5000: | $0.46 |