Product Summary
The 36MB160A is a single phase bridge power module. A range of extremely compact, encapsulated single phase bridge rectifiers offering efficient and reliable operation. The 36MB160A is intended for use in general purpose and instrumentation applications.
Parametrics
36MB160A absolute maximum ratings: (1)IO: 35 A; (2)IO@ TC: 55℃; (3)IFSM @50Hz: 475 A; (4)IFSM@ 60Hz: 500 A; (5)I2t @ 50Hz: 1130 A2s; (6)I2t @ 60Hz:1030 A2s; (7)VRRM range: 1400 to 1600 V; (8)TJ: -55 to 150℃.
Features
36MB160A features: (1)Universal, 3 way terminals: push-on, wrap around or solder; (2)High thermal conductivity package, electrically insulated case; (3)Center hole fixing; (4)Excellent power/volume ratio; (5)UL E 62320 approved; (6)Nickel plated terminals solderable as per MIL-STD-202 Method 208; solder: Sn/Pb (60/40); solder temperature: 235-260℃ max. time: 8-10 secs.
Diagrams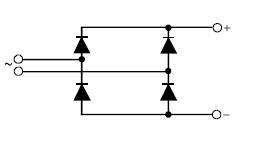 Image
Part No
Mfg
Description
Pricing
(USD)
Quantity

36MB160A



RECTIFIER BRIDGE 1600V 35A D-34A

Data Sheet



| | |
| --- | --- |
| 0-1: | $8.27 |
| 1-10: | $7.51 |
| 10-100: | $6.39 |
| 100-250: | $5.82 |
| 250-500: | $5.45 |
| 500-1000: | $5.00 |
| 1000-2500: | $4.79 |
| 2500-5000: | $4.66 |
| 5000-10000: | $4.51 |

Image
Part No
Mfg
Description
Pricing
(USD)
Quantity

36Mb

Other



Data Sheet

Negotiable

36MB05A



RECTIFIER BRIDGE 50V 35A D-34A

Data Sheet



36MB100A



RECTIFIER BRIDGE 1000V 35A D-34A

Data Sheet



| | |
| --- | --- |
| 0-1: | $5.13 |
| 1-10: | $4.62 |
| 10-100: | $3.79 |
| 100-250: | $3.49 |
| 250-500: | $3.18 |
| 500-1000: | $2.77 |
| 1000-2500: | $2.67 |
| 2500-5000: | $2.56 |
| 5000-10000: | $2.51 |


36MB10A



RECTIFIER BRIDGE 100V 35A D-34A

Data Sheet



36MB120A

Ruttonsha

Bridge Rectifiers 35/28A 1200 Volt

Data Sheet



| | |
| --- | --- |
| 0-100: | $2.27 |
| 100-500: | $2.09 |
| 500-1000: | $1.78 |


36MB140A



RECTIFIER BRIDGE 1400V 35A D34A

Data Sheet



| | |
| --- | --- |
| 0-1: | $7.78 |
| 1-10: | $7.07 |
| 10-100: | $6.01 |
| 100-250: | $5.48 |
| 250-500: | $5.12 |
| 500-1000: | $4.70 |
| 1000-2500: | $4.51 |
| 2500-5000: | $4.38 |
| 5000-10000: | $4.24 |