Product Summary
The MBR2045CTG is a SWITCHMODE Power Rectifier. The applications of the MBR2045CTG include Power Supply - Output Rectification, Power Management, Instrumentation.
Parametrics
MBR2045CTG absolute maximum ratings: (1)Peak Repetitive Reverse Voltage Working Peak Reverse Voltage DC Blocking Voltage, VRRM, VRWM, VR: 45 V; (2)Average Rectified Forward Current, TC = 165℃, Per device, IF(AV): 20A; Per diode, IF(AV): 10A; (3)Peak Repetitive Forward Current per Diode Leg (Square Wave, 20 kHz, TC = 163℃), IFRM: 20A; (4)Non-repetitive Peak Surge Current (Surge applied at rated load conditions halfwave, single phase, 60 Hz), IFSM: 150 A; (5)Peak Repetitive Reverse Surge Current (2.0μs, 1.0 kHz), IRRM: 1.0A; (6)Storage Temperature, Tstg: -65 to +175℃; (7)Operating Junction Temperature, TJ: -65 to +175℃; (8)Voltage Rate of Change (Rated VR), dv/dt: 10,000 V/μs.
Features
MBR2045CTG features: (1)Low Forward Voltage; (2)Low Power Loss / High Efficiency; (3)High Surge Capacity; (4)175℃ Operating Junction Temperature; (5)20 A Total (10 A Per Diode Leg); (6)Pb-Free Package is Available.
Diagrams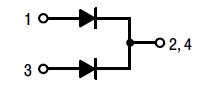 Image
Part No
Mfg
Description
Pricing
(USD)
Quantity

MBR2045CTG

ON Semiconductor

Schottky (Diodes & Rectifiers) 20A 45V

Data Sheet



| | |
| --- | --- |
| 0-1: | $0.68 |
| 1-25: | $0.59 |
| 25-100: | $0.50 |
| 100-500: | $0.39 |

Image
Part No
Mfg
Description
Pricing
(USD)
Quantity

MBR20020CTR

GeneSiC Semiconductor

Schottky (Diodes & Rectifiers) SI PWR SCHOTTKY 2TWR 20-100V 200A 20P/14R

Data Sheet



| | |
| --- | --- |
| 0-25: | $28.94 |
| 25-100: | $25.97 |
| 100-250: | $23.06 |


MBR20030CTR

GeneSiC Semiconductor

Schottky (Diodes & Rectifiers) 30V 200A Schottky Recovery

Data Sheet



| | |
| --- | --- |
| 0-1: | $37.20 |
| 1-25: | $36.27 |
| 25-100: | $32.55 |


MBR20100CT/45

Vishay Semiconductors

Schottky (Diodes & Rectifiers) 20 Amp 100 Volt

Data Sheet

Negotiable

MBR20200CTG

ON Semiconductor

Schottky (Diodes & Rectifiers) 20A 200V

Data Sheet



| | |
| --- | --- |
| 0-1: | $0.97 |
| 1-25: | $0.77 |
| 25-100: | $0.62 |
| 100-500: | $0.54 |


MBR20150CTTU

Fairchild Semiconductor

Schottky (Diodes & Rectifiers) 150V/20A

Data Sheet



| | |
| --- | --- |
| 0-1: | $0.67 |
| 1-25: | $0.58 |
| 25-100: | $0.54 |
| 100-250: | $0.46 |


MBR2030CTLG

ON Semiconductor

Schottky (Diodes & Rectifiers) 20A 30V

Data Sheet



| | |
| --- | --- |
| 0-1: | $1.14 |
| 1-25: | $0.92 |
| 25-100: | $0.73 |
| 100-500: | $0.64 |