Product Summary
The MC10EL16DR2 is a differential receiver. The device is functionally equivalent to the E116 device with higher performance capabilities. With output transition times significantly faster than the E116, the MC10EL16DR2 is ideally suited for interfacing with high frequency sources. The VBB pin, an internally generated voltage supply, is available to the MC10EL16DR2 only. For single-ended input conditions, the unused differential input is connected to VBB as a switching reference voltage. VBB may also rebias AC coupled inputs. When used, decouple VBB and VCC via a 0.01 μF capacitor and limit current sourcing or sinking to 0.5 mA. When not used, VBB should be left open. Under open input conditions (pulled to VEE) internal input clamps will force the Q output LOW.
Parametrics
MC10EL16DR2 absolute maximum ratings: (1)VCC PECL Mode Power Supply VEE = 0 V: 8 to 0 V; (2)VEE NECL Mode Power Supply VCC = 0 V: -8 to 0 V; (3)VI PECL Mode Input Voltage VEE = 0 V VI ≤ VCC: 6 to 0V; (4)NECL Mode Input Voltage VCC = 0 V VI ≤ VEE: -6 to 0V; (5)Iout Output Current Continuous: 50mA; (6)Iout Output Current Surge: 100mA; (7)TA Operating Temperature Range: -40 to +85℃; (8)Tstg Storage Temperature Range: -65 to +150℃; (9)θJA Thermal Resistance (Junction to Ambient): 0 lpfm 190℃/W, 500 lpfm 130℃/W; (10)θJC Thermal Resistance (Junction to Case) Standard Board: 41 to 44 ℃/W; (11)Tsol Wave Solder Pb <2 to 3 sec @ 248℃: 265℃; (12)Tsol Wave Solder Pb-Free <2 to 3 sec @ 260℃: 265℃; (13)IBB VBB Sink/Source: ± 0.5 mA.
Features
MC10EL16DR2 features: (1)190 ps Propagation Delay; (2)PECL Mode Operating Range: VCC = 4.2 V to 5.7 V with VEE = 0 V; (3)NECL Mode Operating Range: VCC = 0 V with VEE = -4.2 V to -5.7 V; (4)Internal Input Pulldown Resistors; (5)Pb-Free Packages are Available.
Diagrams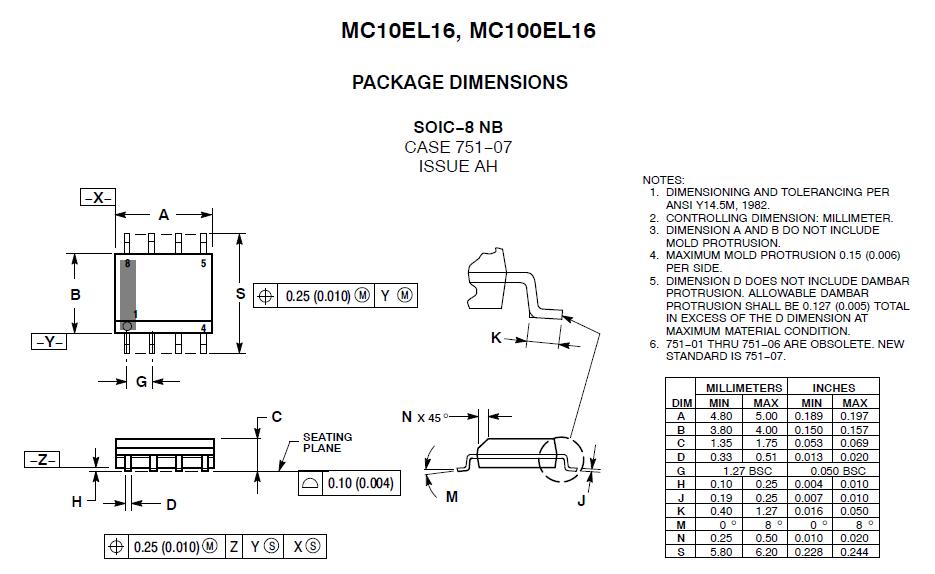 Image
Part No
Mfg
Description
Pricing
(USD)
Quantity

MC10EL16DR2

ON Semiconductor

Buffers & Line Drivers 5V ECL Diff Line

Data Sheet

Negotiable

MC10EL16DR2G

ON Semiconductor

Buffers & Line Drivers 5V ECL Diff Line

Data Sheet



| | |
| --- | --- |
| 0-1855: | $2.02 |
| 1855-2000: | $1.95 |
| 2000-2500: | $1.95 |