Product Summary
The UC3879DW is a phase shift resonant controller, which controls a bridge power stage by phase shifting the switching of one half-bridge with respect to the other. This allows constant frequency pulse width modulation in combination with resonant, zero-voltage switching for high efficiency performance. The UC3879DW can be configured to provide control in either voltage mode or current mode operation, with overcurrent shutdown for fast fault protection. Independently programmable time delays provide dead-time at the turn-on of each output stage, allowing time for each resonant switching interval.
Parametrics
UC3879DW absolute maximum ratings: (1)Supply voltage (VC, VIN): 20 V; (2)Output current, source or sink, dc: 20 mA; (3)Output current, source, sink peak for 0.1 μs at max frequency of 300 kHz: 100 mA; (4)Analog inputs (Pins 1, 2, 3, 4, 5, 6, 14, 15, 17, 18, 19): –0.3 to 5.3 V; (5)Analog inputs (Pin 16): –0.03 to VIN V; (6)Analog outputs (Pins 7, 8, 12, 13): –0.3 to VC to 0.3 V; (7)Storage temperature range: –65℃ to 150℃; (8)Junction temperature: –55℃ to 150℃; (9)Lead temperature (soldering, 10 sec): 300℃.
Features
UC3879DW features: (1)Programmable Output Turn On Delay; Zero Delay Available; (2)Compatible with Voltage Mode or Current Mode Topologies; (3)Practical Operation at Switching Frequencies to 300 kHz; (4)10-MHz Error Amplifier; (5)Pin Programmable Undervoltage Lockout; (6)Low Startup Current – 150 μA; (7)Soft Start Control; (8)Outputs Active Low During UVLO.
Diagrams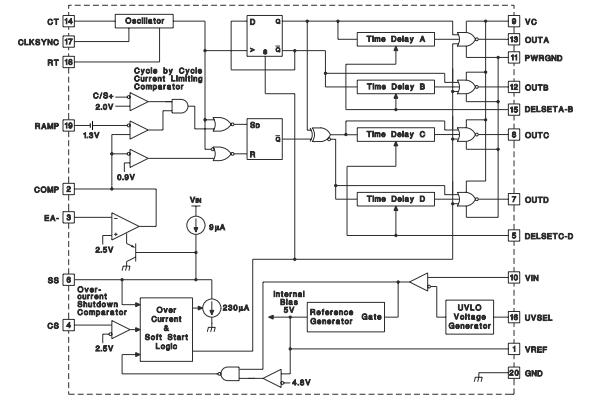 Image
Part No
Mfg
Description
Pricing
(USD)
Quantity

UC3879DW

Texas Instruments

Soft Switching PWM Controllers Phase Shift Resonant Controller

Data Sheet



| | |
| --- | --- |
| 0-1: | $5.81 |
| 1-25: | $5.41 |
| 25-100: | $4.88 |
| 100-250: | $4.48 |


UC3879DWG4

Texas Instruments

Soft Switching PWM Controllers Phase Shift Resonant Controller

Data Sheet



| | |
| --- | --- |
| 0-1: | $5.81 |
| 1-25: | $4.94 |
| 25-100: | $4.54 |
| 100-250: | $4.14 |


UC3879DWTR

Texas Instruments

Soft Switching PWM Controllers Phase Shift Resonant Controller

Data Sheet



| | |
| --- | --- |
| 0-1600: | $2.78 |
| 1600-2000: | $2.75 |


UC3879DWTRG4

Texas Instruments

Soft Switching PWM Controllers Phase Shift Resonant Controller

Data Sheet



| | |
| --- | --- |
| 0-1600: | $2.78 |
| 1600-2000: | $2.75 |