Product Summary
The MIC3775YMM is a 750mA low dropout linear voltage regulator that provides low voltage, high current output from an extremely small package. Utilizing Micrel proprietary Superβeta PNP pass element, the MIC3775YMM offers extremely low dropout (typically 280mV at 750mA) and low ground current (typically 7.5mA at 750mA). The MIC3775YMM is ideal for PC add in cards that need to convert from standard 5V to 3.3V or 3.0V, 3.3V to 2.5V or 2.5V to 1.8Vor 1.65V. A guaranteed maximum dropout voltage of 500mV over all operating conditions allows the MIC3775 to provide 2.5V from a supply as low as 3.0V and 1.8V or 1.5V from a supply as low as 2.25V. The MIC3775YMM applications are: (1)Fiber optic modules; (2)LDO linear regulator for PC add in cards; (3)PowerPCTM power supplies; (4)High efficiency linear power supplies; (5)SMPS post regulator; (6)Multimedia and PC processor supplies; (7)Battery chargers; (8)Low voltage microcontrollers and digital logic.
Parametrics
MIC3775YMM absolute maximum ratings: (1)Supply Voltage (VIN): 6.5V; (2)Enable Voltage (VEN): 6.5V; (3)Lead Temperature (soldering, 5 sec.): 260℃; (4)Storage Temperature (Ts): -65℃ to +150℃; (5)EDS Rating: Note 3.

Features
MIC3775YMM features: (1)Stable with ceramic capacitor; (2)750mA minimum guaranteed output current; (3)1% initial accuracy; (4)Low ground current; (5)Current limiting and thermal shutdown; (6)Reversed leakage protection; (7)Fast transient response; (8)Low profile power MSOP 8 package.

Diagrams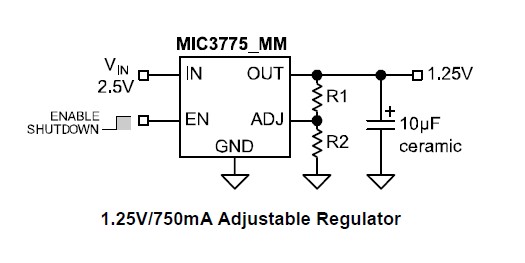 Image
Part No
Mfg
Description
Pricing
(USD)
Quantity

MIC3775YMM



IC REG LDO ADJ .75A 8-MSOP

Data Sheet



| | |
| --- | --- |
| 0-1: | $0.96 |
| 1-25: | $0.77 |
| 25-100: | $0.58 |
| 100-250: | $0.54 |
| 250-500: | $0.52 |


MIC3775YMM TR



IC REG LDO ADJ .75A 8-MSOP

Data Sheet