Product Summary
The MM74C926N is a CMOS counter, consisting of a 4-digit counter, an internal output latch, NPN output sourcing drivers for a 7-segment display, and an internal multiplexing circuitry with four multiplexing outputs. The multiplexing circuit has its own free-running oscillator, and requires no external clock. The MM74C926N advance on negative edge of clock. A HIGH signal on the Reset input will reset the counter to zero, and reset the carry-out LOW. A LOW signal on the Latch Enable input will latch the number in the counters into the internal output latches. A HIGH signal on Display Select input will select the number in the counter to be displayed; a LOW level signal on the Display Select will select the number in the output latch to be displayed. The MM74C926N is a 4-decade counter and has Latch Enable, Clock and Reset inputs.
Parametrics
MM74C926N absolute maximum ratings: (1)Voltage at Any Output Pin: GND -0.3V to VCC +0.3V; (2)Voltage at Any Input Pin: GND -0.3V to +15V; (3)Operating Temperature Range (TA): -40℃ to +85℃; (4)Storage Temperature Range: -65℃ to +150℃; (5)Power Dissipation (PD): Refer to PD(MAX) vs TA Graph; (6)Operating VCC Range: 3V to 6V; (7)VCC: 6.5V; (8)Lead Temperature (Soldering, 10 seconds): 260℃.
Features
MM74C926N features: (1)Wide supply voltage range: 3V to 6V; (2)Guaranteed noise margin: 1V; (3)High noise immunity: 0.45 VCC (typ.); (4)High segment sourcing current: 40 mA @ VCC - 1.6V, VCC = 5V; (5)Internal multiplexing circuitry.
Diagrams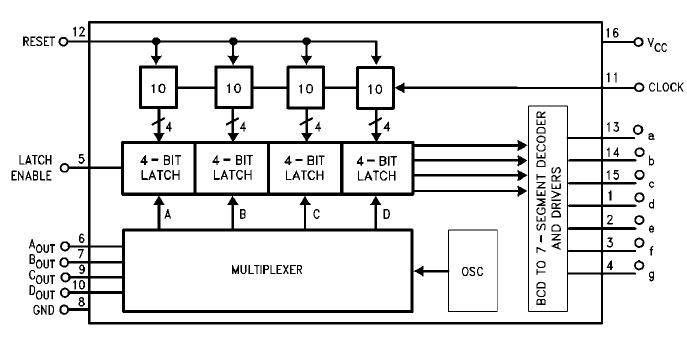 Image
Part No
Mfg
Description
Pricing
(USD)
Quantity

MM74C926N

Fairchild Semiconductor

Counter Shift Registers 4-Digit Counters

Data Sheet

Negotiable

MM74C926N_Q

Fairchild Semiconductor

Counter ICs 4-Digit Counters

Data Sheet

Negotiable