Product Summary
The VSP2262Y is a complete mixed-signal processing IC for digital cameras, providing signal conditioning and Analog-to-Digital (A/D) conversion for the output of a CCD array. The primary CCD channel provides Correlated Double Sampling (CDS) to extract video information from the pixels, –6dB to +42dB gain range with digital control for varying illumination conditions, and black level clamping for an accurate black level reference. Input signal clamping and offset correction of the input CDS are also performed. The stable gain control is linear in dB. Additionally, the black level is quickly recovered after gain change. The VSP2262Y is available in an LQFP-48 package and operates from a single +3V/+3.3V supply.
Parametrics
VSP2262Y absolute maximum ratings: (1)Supply Voltage: VCC, DRVDD +4.0V; (2)Supply-Voltage Differences: Among VCC ±0.1V; (3)Ground-Voltage Differences: Among GNDA ±0.1V; (4)Digital Input Voltage: –0.3 to +5.3V; (5)Analog Input Voltage: –0.3 to VCC + 0.3V; (6)Input Current (Any Pins Except Supplies): ±10mA; (7)Ambient Temperature Under Bias: –40 to +125℃; (8)Storage Temperature: –55 to +125℃; (9)Junction Temperature: +150℃; (10)Lead Temperature (Soldering, 5s): +260℃; (11)Package Temperature (IR Reflow, Peak, 10s): +235℃.
Features
VSP2262Y features: (1)CCD SIGNAL PROCESSING: Correlated Double Sampling (CDS) Programmable Black Level Clamping; (2)PROGRAMMABLE GAIN AMPLIFIER (PGA): –6dB to +42dB Gain Ranging; (3)12-BIT DIGITAL DATA OUTPUT: Up to 20MHz Conversion Rate No Missing Codes; (4)79dB SIGNAL-TO-NOISE RATIO; (5)PORTABLE OPERATION: Low Voltage: 2.7V to 3.6V, Low Power: 83mW (typ) at 3.0V, Stand-By Mode: 6mW.
Diagrams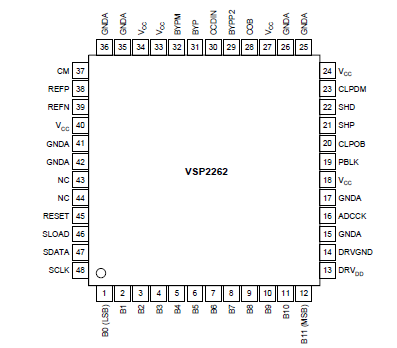 Image
Part No
Mfg
Description
Pricing
(USD)
Quantity

VSP2262Y

Texas Instruments

Video A/D Converter ICs 12-Bit 20Msps Signal Processor

Data Sheet



| | |
| --- | --- |
| 0-180: | $10.04 |
| 180-250: | $9.53 |
| 250-500: | $9.02 |


VSP2262Y/2K

Texas Instruments

Video A/D Converter ICs 12-Bit 20Msps Signal Processor

Data Sheet



| | |
| --- | --- |
| 0-1604: | $7.90 |
| 1604-2000: | $7.81 |


VSP2262YG4

Texas Instruments

Video A/D Converter ICs 12-Bit 20Msps Signal Processor

Data Sheet



| | |
| --- | --- |
| 0-180: | $10.04 |
| 180-250: | $9.53 |
| 250-500: | $9.02 |


VSP2262Y/2KG4

Texas Instruments

Video A/D Converter ICs 12-Bit 20Msps Signal Processor

Data Sheet



| | |
| --- | --- |
| 0-1604: | $7.90 |
| 1604-2000: | $7.81 |